The Safe Smart Food project is composed by 5 clusters from 4 EU countries.
These organizations have driven this project with the intention of promoting the internationalisation of the associated clusters and their member companies.
Smart Food Cluster is a part of the European Cluster Alliance. Also, very focused on exportation due to the small size of the national market. Main activities linked with the project strategy are: business missions, B2B matchmakings, connection with packaging industry, digitalisation, new/smart products, internationalisation & growth.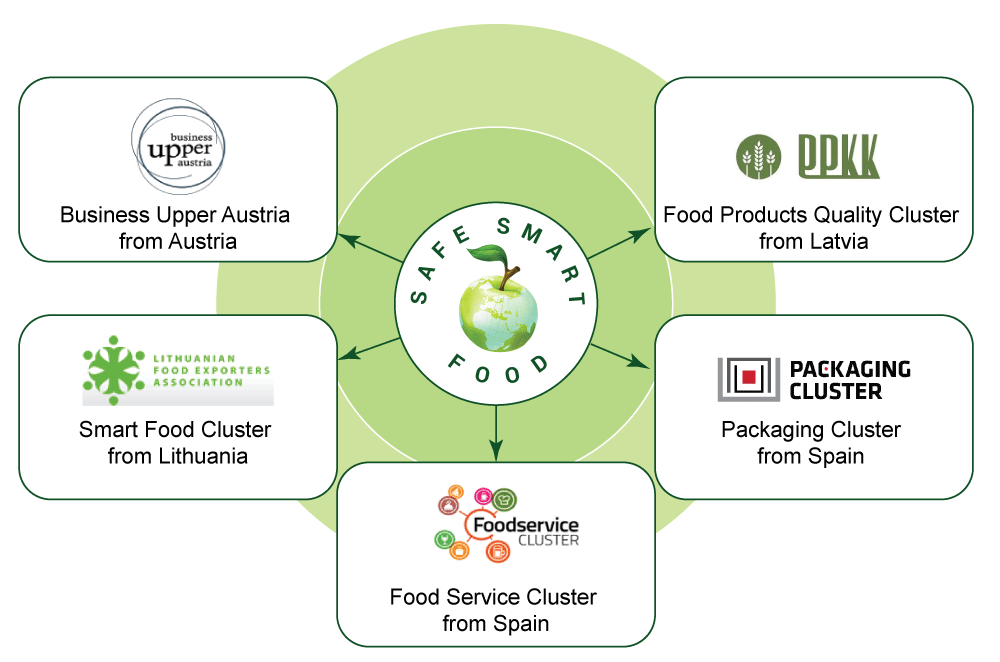 Business Upper Austria main activities linked with the project' strategy are: exchange of experience rounds, qualification seminars, trainings, funding consultancy where most of the funded projects are for packaging topics, support in internationalisation and fair tours, matchmaking and networking events.
Packaging Cluster has members from all the packaging value chain. Recently had the Gold Label audit, selected by the Catalan institution ACCIÓ. High level of participation in activities and projects from the cluster' members. Sustainability and Shared Value working groups are target companies of the project. Annual reports analysing the sector, this year: Industry 4.0. Main activities linked with the project's strategy are: strategic reflection events, technical and innovation seminars, inter-cluster workshops, internationalisation, training and spreading know-how, R+D+I projects.
Foodservice Cluster of Catalonia is a cluster organisation that is intended to promote and strengthen the competitiveness of the foodservice segment, initiatives aimed at driving the foodservice sector of Catalonia and stimulating and exploiting the synergies between the members of the value chain in order to drive the development of transforming projects. Projects and activities of great impact between cluster members with topics such as: user experience, km.0, digitalisation, food safety, eco/smart packaging, last mile.
Food Products Quality Cluster provides national food quality labels and improvement programmes for national food producers. Exportation is very important for the sector in the country. Members can offer green national products and flexible production to differentiate from big companies. Main activities linked with the project's strategy are: R+D+I, internationalisation and collaborative projects.